Charles Zsebik Discusses Recent Acquisitions in the Hospitality Industry
Charles Zsebik covers the M&A beat for several business publications. Below, Mr. Zsebik breaks down some of the major mergers and acquisitions taking place in the hospitality industry.
The biggest M&A shock of 2020 in the restaurant business was probably that of NPC International's Chapter 11 filing. This Wendy's and Pizza Hut franchisee were snapped up by Flynn restaurants for $801 million.
Charles Zsebik notes that 2021 may not have seen such a high-profile acquisition, but there were still plenty of interesting moves and shakes occurring in the industry, as recovery from Covid-19 losses are boosted by vaccination success.
So, here are the mergers and acquisitions highlights in the 2021 hospitality industry.
Fat Brands continues to get even fatter
Sometimes, giants in the restaurant industry are born out of a dream of creating home-cooked food and selling it en masse in restaurants and fast-food joints.
And sometimes, giants in the restaurant industry are born out of buying up these restaurants and fast-food joints without ever flipping a burger of their own. Which is exactly what Fat Brands have done, and what they continue to do best Charles Zsebik reports.
There's been no slowing down for this eponymously large company in 2021; they snapped up Global Franchise Group from Serruya Private Equity, Inc., and Lion Capital LLP mid-way through the year.
This deal, costing $442.5 million in cash and stock, sees Fat Brands now bringing a whole host of names on board, including Round Table Pizza, Marble Slab Creamery, and Great American Cookies.
Charles Zsebik explains that it bulks up Fat Brands' portfolio to over 2,000 restaurants and franchises, creating an overall company value of almost $1.5 billion.
Jack in the Box buys out Del Taco
Two huge names came together at the very end of 2021, as in early December the merging of Del Taco into Jack in the Box was finalized. The deal's worth $575 million, working out at $12.51 per share of the Mexican giant's company.
The deal ate into a huge portion of Jack in the Box's overall value of $1.76 billion, but CEO Darin Harris has been quick to point out that the surge of pandemic-related drive-in sales have boosted the company's coffers.
Chuck Zsebik says that Jack in the Box are confident that this merger will see them rebrand and expand across the country. It's an aggressive strategy that the new CEO is implementing, but it looks to be based on knowledge-sharing and innovation that will see rewards all around in the post-pandemic boom the business world is anticipating.
Capriotti's Sandwich Shop merges with Wing Zone
Poultry was the name of the game at the beginning of the year, as January saw the Nevada based, fast-casual gem Capriotti's joining with Atlanta-born Wing Zone in a deal that's thought to bring in a combined value of $100 million a year.
Charles Zsebik explains that Capriotti's Sandwich Shop, famous for its sandwiches packed with freshly roasted turkey, will now expand east, opening locations in Texas, Florida, and Virginia.
Wing Zone will head west, too, in this mutually beneficial deal, which will see them taking their famous buffalo wings and trying them out with the residents of Fresno, Los Angeles, Central Valley, and beyond.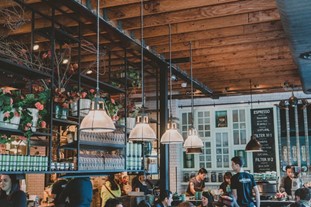 Squarespace acquires Tock; Sweetgreen buys Spyce
Dining out has changed in many ways over the years and the latest digital innovations have greatly impacted the hospitality industry, leading to new kinds of mergers and acquisitions in the sector.
Chuck Zsebik reports that In a deal that cost $400 million, the website building giant Squarespace purchased tech platform Tock, allowing them to integrate Tock's services on their websites. Tock specializes in software that facilitates table reservations, takeout ordering, and the discovery of a myriad of culinary delights across the globe.
It's a move that will surely revolutionize the industry, as Squarespace is one of the leading website building and ecommerce websites around. Restaurants now using Squarespace's services will also now take full advantage of Tock's tech additions.
In addition, the salad chain Sweetgreen has bought robotic kitchen services company Spyce, as they head towards a fully automated food preparation service Charles Zsebik reports.
These mergers highlight just how well restaurants and food services have diversified to meet the challenge of the pandemic. The way we eat has changed, and is still changing, and the emphasis on tech and digital solutions is evidence of that.
Biting Back After the Pandemic
Charles Zsebik notes that the hospitality industry undoubtedly hit a slump nobody could have forecast because of the Covid-19 pandemic, but the mergers and acquisitions of 2021 have shown that the industry is far from finished.
Instead, out of adversity comes innovation, and the restaurant and hospitality sector has proved to be both resilient and prepared for life after the pandemic. For foodies from all walks, there will be no stopping the customers getting their favorite cuisine in 2022.