Scott Jacobson is the founder of Fuse Advancement, a leading consultation-based organization famed for its focused approach to advertising and local connections. The following article is a discussion on how advertising partnerships play a role in market expansion.
FUSE Advancement paired up with Palm Springs International Airport (PSP) for a three-year on-campus advertising contract. This partnership signifies just how impactful collaboration can be in these scenarios, providing unbridled access to otherwise untapped audiences.
Through the company's FUSE Connect service, the vibrant team will deliver its in-terminal airport advertising to PSP in its outside-the-box methods. According to the company itself, such partnerships are a win-win for all involved, as it offers supreme advertising to local businesses of all shapes and sizes.
Scott Jacobson Discusses Advertising with No Constraints to Reach Wide Audiences
Advertising and marketing are all about reaching people. Appealing to emotions is perhaps one of the favored techniques, but posters, flyers, and brochures are worthless if they remain unseen. Scott Jacobson, founder of Fuse Advancement, says that advertisements have to be meaningful, engaging, and applied in the right locations — and what better place than an airport?
Not only are airports incredibly busy, but people often mingle in these spaces for several hours to ensure they don't miss their flight, giving them plenty of time to walk the hallways, peruse the billboards, and decide whether to purchase from a local business.
FUSE partnerships are centered around this untapped market, offering airport advertising and sponsorship opportunities inside terminal complexes to increase the chances of people interacting with nearby companies.
Close Collaboration with Airports to Reimagine Programs
The demographics within an airport are plentiful, with people flying in from all corners of the world. So, effectively reaching them requires more than just a tired advertising campaign — it necessitates fresh ideas, which is exactly what the FUSE/PSP partnership delivers, according to Scott Jacobson.
FUSE Connect will collaborate with PSP to rejuvenate its airport advertising program in brand-new captivating concepts. The team boasts a long track record of success in this form of marketing, ensuring that all members will deftly enhance the passenger experience while also highlighting the ever-vibrant tourism/community opportunities around Coachella Valley.
Scott Jacobson, founder of Fuse Advancement, noted his honor regarding the Palm Springs International Airport contract. He went on to state that he and his team intimately understand the bespoke preferences and needs of the airport's location, giving them ample expertise to meet (and exceed) expectations.
Scott Jacobson is joined by Keith Saleo-An, the Director of Strategy, and Cuyapi Scott, the Chief Marketing Officer, to collectively bring exorbitant amounts of experience to the team. Together, they will ensure the area's local businesses receive the attention they deserve by appealing to jetsetters from around the globe.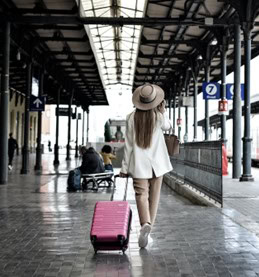 More Partnerships Are Needed to Revitalize Local Businesses and Bring Engagement to Airport Advertising
The partnership between PSP and FUSE is set to enhance the current advertising program, guaranteeing an immersive experience for travelers and inexhaustible exposure for local businesses.
However, this is simply the tip of the iceberg. Similar partnerships around the world are answering the cries for disruptive new approaches to airport advertising that drive never-seen-before levels of passenger conversion. And with the way the world is going, it seems that solutions should include technology.
Scott Jacobson, founder of Fuse Advancement says that many airports are already aligning themselves with advertisers ready to craft out-of-the-box projects and bring them to passengers waiting for their flights. Such projects may even help calm the nerves of those with a fear of flying.
For example, Scott Jacobson, founder of Fuse Advancement noted that the partnership between the esteemed advertising consultancy and the Ontario International Airport has seen advertisers on terminal walls that even the CEO, Atif Elkadi, didn't expect to see there, such as Sammy Hagar's Santo Tequila, Porsche, and Audi. The relationships pre-fostered by FUSE are incredibly important for finding such success — they aren't just transactional; they run much deeper.
There's Nothing Like Exposure for Local Businesses. Luckily, Airports Have It in Spades
Airports like PSP welcome around three million passengers each year, providing a one-stop-shop of mammoth amounts of exposure for local businesses, unlocking previously unreachable audiences.
Scott Jacobson, founder of Fuse Advancement reports that no entrepreneur can waltz to the store and pick up a bag of exposure, but they can certainly contact FUSE Advancement to learn more and get their startup in front of millions of bustling airport-goers' eyeballs, which is about the same thing.