William Timlen CPA works as a Tax Partner in the Real Estate Services Group, with more than 20 years of professional experience. In the following article, William Timlen reviews luxury real estate in New York City, focusing on its current state and rising trends.
In the heart of New York City, the luxury real estate market continues to thrive – catering to a select but active buyer pool. From lavish condominium units with lux amenities and stunning penthouses to charming townhomes and vintage brownstones, one will find a wide array of offerings here that could only be dreamed of anywhere else.
When it comes to real estate, NYC seems to have everything… except for certainty. Nonetheless, it's still best to identify upcoming trends and insights to help guide both buyers and sellers in the year ahead.
William Timlen CPA Defines "Luxury"
What comes to mind upon hearing "luxury real estate"?
Mansions? Prestigious neighborhoods? Properties owned by celebrities?
Indeed, luxury real estate is challenging to define. Standards differ across various markets – what may be considered a luxurious family home in the Midwest won't be the same as a luxurious condo in an East Coast city.
William Timlen CPA says that generally, luxury real estate refers to properties characterized by exclusivity, high-end quality, and features that transcend the norms of most local properties. They are defined by their prime locations, top-of-the-line designs, and endless arrays of upscale amenities and services.
One can consider the real estate market as the top 5 percent in any given area. High-end properties in large metros like Chicago and Dallas start at $1 million, but in expensive cities like New York, these properties start at a staggering $4 million.
The Evolution of Luxury Real Estate in NYC -Updates and Forecast
William Timlen CPA says that despite inflation, rising interest rates, and possible recession, premier properties remain to be a must-have for New York power players.
According to industry experts, there are still ongoing bidding wars on properties that are considered "scarce". There are currently no bargains for buyers purchasing their dream New York property.
The first 8 months of 2022 saw a 35.6 percent increase in sales compared to the same periods of 2021 and (pre-pandemic) 2019. A total of 841 luxury homes priced at a minimum of $5 million were sold, according to data published by Variety Magazine.
However, Jeremy Stein of Sotheby's International Realty stated that after a 16-month run for luxury real estate in NYC, he started seeing a decline by August, with only 15 percent of deals closing above list price.
William Timlen CPA notes that many believe the luxury market is beginning to enter neutral territory. It's safe to say, whichever way the market heads, it won't be nearly as dramatic as it has been.
But what is the current state of NYC's luxury housing market?
William Timlen CPA explains that the New York State Association of Realtors (NYSAR) released a report with the latest insights on the NY luxury real estate market, along with the stateside market. Here are some key points: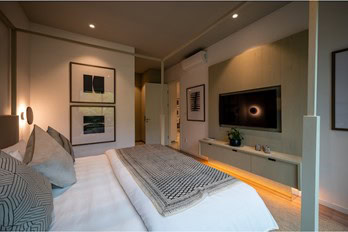 The average sales price of properties was down 2.9 percent to $545,137.
The Median Sales Price increased 0.2 percent to $426,001.
Pending sales, a forward-looking indicator of home sales based on contract signings, were down 6.2 percent to 12,166.
Closed Sales declined by 25.3 percent to 10,186.
Homes for Sale was down by 25.3 percent to 31,605 units.
Days on the Market is up by 17.8 percent to 53 days.
On average, sellers received 102.6 percent of their original list price after a sale, maintaining a continuous drop of 1.2 percent year after year.
Months Supply of Inventory decreased by 8.6 percent to 3.2 months.
Additionally, Architectural Digest recently released an article detailing the latest design trends in luxury real estate. The following 3 home features are expected to be all the rage this year:
• Above Ground Pools
William Timlen CPA notes that above-ground pools are making a comeback! More and more homeowners are opting to use stock tanks and shipping containers as makeshift swimming pools to achieve a simple and minimalistic look. But more than aesthetics, above-ground pools are easier to install, maintain, and repair compared to their in-ground counterparts.
• Luxury Bunkers
William Timlen CPA reports that an ongoing war in Europe and a pandemic are enough reasons for some high-net worth families to seek enhanced security. Oppidum, a Swiss firm, is happy to supply this rising demand. The firm develops underground homes or luxury bunkers made with military-grade technology, complete with air filtration, an off-grid power supply, and top-tier security.
Of course, these structures aren't called luxury bunkers for nothing – as they are as fancy as the owner's home above ground, with sophisticated lighting systems, pools, art galleries, wine cellars, and more!
• Pied-à-terre with a Twist
Those who fled the city during the pandemic are now looking to return… but not fully.
Most of them have missed the thrills of city life but still crave the comforts of the country, thus they have resorted to hybrid living. Instead of purchasing a second home or moving back, the perfect solution would be to rent out a luxurious apartment that offers the services of a five-star hotel.
William Timlen CPA reports that with everything that's happened in the last few years, more and more people are opting out of long-term commitments.