Did you know the official U.S. inflation rate has risen to 5.4% over the past year? But the truth is that many products people consume everyday like gasoline and home heating oil have increased far beyond that stated amount. Many Americans are eager to insulate themselves from the drastic effects of changing prices. Meanwhile, small businesses are struggling to make ends meet.
Average citizens don't have to make tough decisions about keeping their businesses afloat, even though they might consume small business products every day.
With significantly reduced purchasing power, small businesses often have to change their goods and services to turn a profit. The shortage of products in the face of inflation can threaten a business's future stability.
For many American small businesses owners, customer satisfaction is paramount to balancing a steady business. However, inflation can force customers into an ultimatum when small companies have to make changes to try and subdue the effects of rising prices.
So the question remains: do small businesses stand a chance? Read on to see what the latest news says.
Breaking Down Inflation
Twitter co-founder Jack Dorsey recently tweeted about his fear that the recent inflation would transition into a period of hyperinflation, which reflects a lot of fear many others share about the state of the nation currently.
However, the current period of inflation Americans face has to do with the rapid increase in demand in a time of low supply slowly over time. Current inflation is actually a direct result of worker and goods shortages as the economy returns from a near flat line in the spring of 2020.
This does mean a lot of risk for small business owners, who provide specific goods and services for their communities. This means your local butcher, grocer, and apparel stores are getting hit hard right now.
Absorbing vs. Raising Prices
On the one hand, there is the temptation to raise prices in-store to balance the rapid inflation of prices of goods. While this provides a steady backbone for business owners, providing an easier way to turn over a profit, it can sometimes come at great cost to the customer and cause the owner to lose business.
Vendors experience the effects of inflation too- and it is not long after the recent raising of their prices on imported goods like coffee, chicken, or even gasoline that small business owners will realize that there is no room to negotiate. This is the case especially with the gas market right now, since crude oil futures have fallen to a new low recently, making private distribution very expensive.
It is already pretty common to see commercial gas stations paying the high prices set by their vendors, as owners jack up their in-store prices the same way, hoping for the possibility of maintaining the business. The one thing you can always count on is people needing gas, so the decision of whether to absorb or raise prices is an easy one for gas station owners.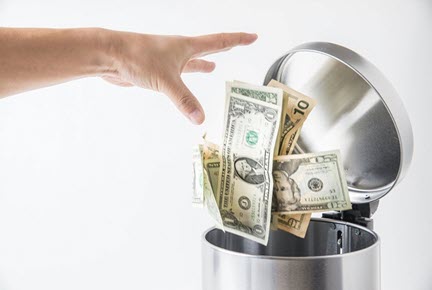 Business Loans
Generally, economic decline and disparity can be seen a couple of miles out since each new change in the market is carefully analyzed and critically examined. More recently, however, fluctuations in supply lines and factory shortages leave most economists with their feet in their mouths.
This makes business loans harder to come by. Typically, the bank gets their money back with interest over time, and the business owner has cheaper interest to pay by the time the market adjusts at the end of the inflation period.
However, not even economists can tell when this period will end, prompting banks not to grant as many, if any, loans to help keep businesses afloat.
It might not necessarily be the owner's fault either- it might be the lack of supply from vendors and manufacturers. Regardless of the problem, the bank will still want their money, and now at a higher monthly interest.
Payroll and Employees
Especially when owners have to dip into their own investments and savings to try and save their business during inflation, employees can land on the lower end with nothing in their pockets. With no way to tell when the inflation period will end, employers cannot promise anything to their workers, which may prompt them to quit in search of other options.
Often, even if the owners can offer a higher wage to support their employees, the compensation will not be enough to outweigh the costs of inflation. Essentially, employees' salaries, even if promoted or raised in any way, will not be enough to counter inflation, rising taxes, costs of clothing and shoes- even the cost of food.
Ironically, the benefits of social security tax for the elderly are the highest in 29 years due to this inflation period.
With personal income at an all-time low this year, employees may feel that it is necessary to consider their options and move on to other employment opportunities. If small businesses weren't in a bind before, they are now, with the job turnover rate projected near 65% in some reports.
Upgrades and Investments
Experts say one of the worst nightmares about the screeching halt of inflation is that any repairs go on the permanent back burner until the economy stabilizes.
Owners dealing with the aftermath of Tropical Storm Ida in Louisiana who may be thinking about fixing the plumbing, air conditioning, flooring, water damage to the roof, or any other repairs are out of luck. Whatever money an owner has or will have in the coming months stays tied up in paying off loans, or absorbing the cost of the vendors' new prices on inventory, or trying to retain unhappy employees.
Natural disasters and inflation can only devalue property investments and keep customers out of the store if the repairs are sorely needed. Especially in parts of the U.S. affected by natural disasters, inflation causing a rise in housing prices may affect owners' personal finances, which may cause them to sell their businesses.
But who will buy them?
Support Your Local Businesses
The effects of inflation on small businesses can be devastating and nightmarish at times. To stay in the loop, keep your eyes on the financial news.