Scott Capelin is the founder of inLIFE Wellness, a Reformer Pilates and group exercise studio with franchises located throughout Australia, with a more recent launch headed to California in March of 2023. In the following article, Scott Capelin discusses the reasons behind the growing popularity of commercial real estate looking to house fitness studios within their developments.
Southdale Mall in Edina, Minnesota, is dubbed the "nation's first indoor regional shopping mall," but it's a dying species. The traditional idea of a shopping mall has been replaced by commercial developments such as mini malls and office buildings, which has seen an increase in places to exercise within its confines. Scott Capelin explains more below on why these types of spaces are seeing a rise in fitness center development within.
Exercise Will Never Go Out of Style
Exercise has been recommended as a health benefit for years, with Hippocrates stating that "eating alone will not keep a man well, he must also take exercise." Since then, exercise in all forms have come and gone. From the Greek's first Olympics Games to Jane Fonda's ballet-inspired videos, exercise has consistently been part of society for millennia.
Scott Capelin of inLIFE says that one of the biggest obstacles that commercial real estate developments experience is choosing the right businesses to support it. Many retail and food-related shops are at the mercy of individual consumer tastes. Fortunately, the wellness trend has not gone out of style.
Scott Capelin of inLIFE says that there will always be groups of people that exercise consistently, especially because it's consistently the top New Year's resolution for many individuals. By incorporating a fitness center into a commercial building, property managers are virtually guaranteed to always have some kind of foot traffic into and out of their building thanks to the popularity of health and wellness goals of society.
Lower Overhead Costs
Scott Capelin says that the financial responsibilities associated with fitness centers tend to be easier to manage, especially for a class like Reformer Pilates, where the entry costs and overhead are low. For example, Reformer Pilates does not require much in the way of electricity, as the machines are powered by the body, not electricity requirements of a treadmill.
Fitness centers can also be highly personalized. A Pilates class usually just requires a mat, although sometimes Pilates balls or bands are used. Even for classes that might require more specialized equipment, like Reformer Pilates, can also be modified to fit the center's projected goals.
Fitness Centers Bring in Consistent Foot Traffic
Scott Capelin says that since there are no set days and times to exercise for many, a fitness center will frequently bring in foot traffic. Because commercial real estate spaces can often contain a wide variety of stores that cater to a diverse clientele that vary in age, gender, and interests, it makes sense to provide fitness centers so these two groupings can cross.
Scott Capelin of inLIFE says that Pilates, especially, has exploded in popularity because the workout is better suited for smaller spaces, and is low-impact. Weightlifting exercises require a lot of room and equipment, which not every commercial space can accommodate. According to Club Industry, interest in Pilates has grown over 500% in the last six years, making it a no-brainer to add a Pilates club to bring in more consistent traffic in a commercial space.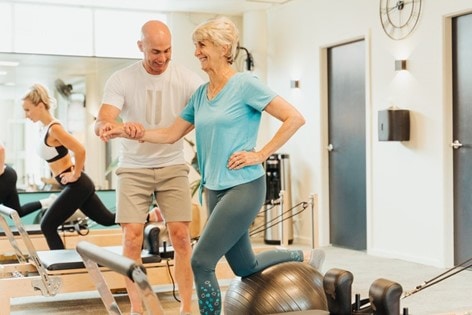 A Collaborative Shopping Ecosystem
The Mayo Clinic has found that exercise is a fantastic way to relieve stress, which can be highly beneficial in commercial real estate spaces. Most of these buildings house other businesses or offices, by offering the building employees incentive – a fitness studio has guaranteed clientele.
Whether someone likes to exercise before work, during their lunch break, or after work, the benefits of having a fitness center within the same vicinity can increase onboarding and retention of employees. In addition, having a low impact exercise option, like Pilates provides employees increased energy, morale, and flexibility to head back to the office upstairs after a workout.
Scott Capelin says that another benefit to fitness centers in a commercial space is that it can create a general sense of collaboration between everyone in the building. Especially at the height of the pandemic, many workers reported feeling disconnected socially from their colleagues. By building rapport between different groups, there is a greater chance of a healthier work environment.
It's to the benefit of all developers of commercial real estate to think about adding fitness centers to their spaces, especially if they will feature a plan like Reformer Pilates. The potential for more foot traffic, cheaper overall costs, and a happier work environment are all upsides that will make the real estate project successful in the long run.