Developer Finds New Ways to Address Housing Need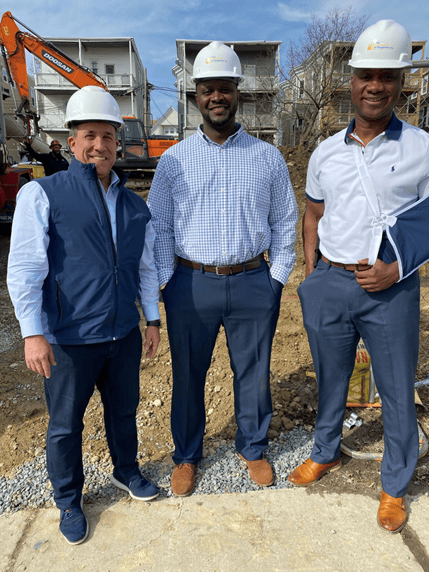 A confluence of social and economic circumstances has heightened both the awareness and need to provide affordable housing for large segments of Boston's population. The real estate development community typically responds by providing either the required percentage of income-restricted units in each multifamily project or an entirely income-restricted building. Both are steps in the right direction, but the need for affordable housing continues unabated.
Paul Ognibene of Cohasset, the CEO of Urban Spaces, a Cambridge-based real estate development company, is known as an innovative thought-leader who is credited with initiating some of the urban trends we experience today. From the largest micro-unit development in the country to transforming First Street in Cambridge into an established residential and commercial spine, Paul Ognibene is constantly thinking about new ways to solve old problems, including addressing the need for decent affordable housing in inner-city neighborhoods.
Paul Ognibene of Cohasset with Parent + Diamond
Working in tandem with Parent + Diamond, a certified Minority Business Enterprise (MBE) development firm led by Ralph Parent, Ognibene financed the Boston Partnership for Community Reinvestment (BPCR), a joint venture of the two firms. This new entity was a response to learning that the City of Boston owned numerous scattered housing sites, primarily vacant lots throughout Roxbury, Dorchester, and Mattapan. These lots were the subject of Requests for Proposals issued by Boston's Department of Neighborhood Development (DND). The new homes to be constructed on these lots were to be affordable to avoid gentrification and their construction required strong participation requirements for local, minority builders and vendors. Typically, DND's projects were limited in size and scope and were awarded to local contractors whose capacity was too limited to address an ever-expanding need for housing. A new idea was needed, an idea that married all that was good about the existing program – especially its objective of providing opportunity with housing – with cost and time-efficient construction practices that could help ensure a higher rate of production. A new approach was born, one embracing MBE and Women's Business Enterprise (WBE) professionals and contractors, all within a framework of specialized and controlled mass production.
One of the contractors on site is Maxine Charles, owner of Massachusetts Construction & Management, a local minority builder. Charles has been working with Ralph Parent of the BPCR to ensure the rapid, safe, and high quality production of affordable homes. Currently, Charles is involved with multiple scattered sites throughout the Angell Spencer section of Dorchester.
This week marks the start of construction of Angell-Spencer, BPCR's first package of single-family, affordable homes on scattered sites throughout Dorchester. Another group of home sites, known as Mt. Bowdoin, follows. BPCR plans to respond to small and large opportunities alike as they are made available by the City.
The BPCR approach, however, seeks to create more than just housing, but also an economic development engine in its host neighborhoods by keeping most of the development dollars circulating within that neighborhood. Paul Ognibene is atypical of most medium to large developers who eschew this kind of fee-based, mission-oriented work, but he and his partners are committed to giving back. Doing affordable housing in an entirely new way appears to be among the best ways of accomplishing that.
Paul Ognibene on Affordable Housing
Affordable Housing is also a "where" question, as well as a "how" question. Paul Ognibene of Cohasset is addressing both at a former schoolhouse, convent, and rectory on Sixth Street in Cambridge. Formerly part of the Sacred Heart Parish, this aggregation of late 19th century brick buildings will become affordable homes for nearly 50 families. Notwithstanding the many high-end buildings in the adjacent Kendall Square neighborhood, Paul Ognibene chose a different path for this site. Seeing the potential for affordable housing, he partnered with Preservation of Affordable Housing (POAH) to create neighborhood-friendly housing featuring historic preservation in accordance with National Register standards and adaptive re-use of a neighborhood icon.
Boston and Cambridge: two different settings and two different approaches to demonstrating the principle of "profit with purpose" in both the public and private sectors. The one constant, however, is Paul Ognibene and his commitment to using real estate development to revitalize and enhance emerging and well-established neighborhoods while respecting the urban fabric of its host communities.