Marketing technology is always changing, and today's brands must constantly adapt their promotion strategies to attract customers. In the past, many companies were skeptical about putting advertising dollars toward niche platforms like Snapchat, but is this attitude still prevalent?
Some of today's most prominent corporations are proving that's no longer the case.
Joey Armstrong runs a marketing consultancy in California and routinely has this conversation about new media strategies with small and medium sized business clients.
Below, Joey Armstrong explains why more brands are using Snapchat and which campaigns have been the most successful in 2021.
Snapchat's Boom as a Marketing Platform
Joey Armstrong explains that since its initial creation in 2011, Snapchat has seen impressive levels of success over the years. As the site became a feature of mainstream internet culture, it wasn't long before even the biggest brands showed up to run ads in this space.
This platform began to allow advertising in October 2014, and it has only grown in popularity. With over 280 million active users every single day, the app generates multiple billions of dollars in revenue every year, and its user count keeps growing.
At its inception, Snapchat was most popular among teenagers and young adults. Many of its initial users have grown and abandoned the app, but it remains popular with the same demographic: younger millennials and young teenagers. A reported 48% of users are between 15 and 25 years old, and brands that sell goods and services to these demographics have certainly not neglected to include this platform in their marketing budgets.
What Brands Launched Successful Snapchat Campaigns Recently?
When it comes to measuring the success of a Snapchat marketing campaign, the results truly speak for themselves, according to Joey Armstrong. Many participating brands such as Exxon Mobil and Lyft have seen significant increases in revenue thanks to the advertisements they ran on Snapchat. The lucrative nature of these marketing projects is encouraging existing participants to return with new ads and new brands to start campaigns of their own.
Read on below to see which companies launched successful Snapchat campaigns in 2021 that were strong enough to catch the eye of marketing experts.
Disney
The Walt Disney Company is known for focusing its marketing efforts on younger demographics, making Snapchat the perfect platform for its social media marketing campaign. And with an advertising budget as large as Disney's, it certainly wasn't a small campaign. Indeed, Disney came in second place for most Snapchat-based marketing projects in 2021.
e.l.f. Cosmetics
This affordable make-up brand is generally popular among teenagers and young adults, so their team decided a Snapchat campaign would serve them well. This company's advertisements were some of the most notable on the platform in 2021 and effectively drew in more revenue.
Lyft
Joey Armstrong reports that this transportation company is well-known by business experts for having a sizable marketing budget and launching aggressive advertising campaigns. They were sure not to neglect Snapchat users in 2021 and ran enough ads on the platform to rank among their top advertisers.
Amazon
A company as large as Amazon is sure to run advertising campaigns on every platform available, and Snapchat is no exception. Focusing on promoting great deals and discounted products to younger demographics, Amazon earned its spot on this platform's list of top advertisers of 2021.
Domino's
Domino's Pizza saw a great deal of success with its recent campaign marketed toward European audiences. Joey Armstrong says that by placing ads throughout the app and developing interactive filters for users to experiment with, Domino's was able to introduce over 800 thousand users in Norway alone to their products.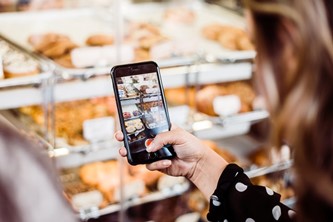 Bacardi
Bacardi is another brand that captured the attention of many Europeans through its engaging, interactive features. Thanks to their limited release of the Lens feature, an interactive filter that promoted the lifestyle associated with their brand, they spread the word to over 2.5 million users in Germany.
Subway
Joey Armstrong relates that to promote the release of one of its new sandwiches, Subway also took advantage of Snapchat's advertising potential. Their social media marketing team developed an emoji representative of the new product they wanted to promote, which allowed users to interact with the concept and become eager to try the sandwich in stores.
Exxon Mobile
While it seems like an unexpected addition to this list based on the demographic known for using Snapchat, petroleum company Exxon Mobil's marketing campaign made them the number one biggest advertiser on this platform in 2021. By focusing their marketing efforts on Snapchat, they managed to effectively promote their ten new products and pull in a significant amount of revenue.
Trends Indicate Snapchat Will Continue to be Popular as a Social Media Marketing Platform in the Future
With so many businesses launching successful Snapchat campaigns and increasing their revenue significantly, marketing experts can only assume that this lucrative and rewarding trend won't go away any time soon. Interested parties should watch this platform's advertisements to see what new brands decide to join in and which ones make the top list of advertisers in the coming year.