Flavia Pichiorri is a clinical research specialist at City of Hope, associated with CD38 targeting therapy in multi relapsing myeloma patients. In the following article, we take a look at the hard work that has gone into these studies, highlighting who Flavia Pichiorri is, her role in the study and the advancements in laboratory technology creating hope for myeloma patients.
Clinical trial studies are crucial to new treatments, both in effectiveness and in safety in all aspects of healthcare. Recently, the glycoprotein CD38 has been featured in treating patients with relapsing myeloma. To gain a better understanding of its impact, we take a look at this prominent doctor's work.
Dr. Flavia Pichiorri has continued her research on myeloma by working to experiment with therapeutic treatment. This has been accomplished by developing in the laboratory and completing the first phase 1 trial in studying myeloma dissemination in patients using an anti-CD38 antibody conjugated with an imaging agent. Recently the myeloma team at City of Hope she also translated into the clinic her preclinical therapeutic studies based on targeting CD38 on the surface of the myeloma cells of multi relapsing Daratumumab progressing myeloma patients using anti-CD38 antibody conjugated with a therapeutic radioisotope. A Phase 1 dose escalation trial which is currently ongoing at City of Hope.
Who is Flavia Pichiorri
Before grasping the significance of her work in CD38 targeted therapy, it can be helpful to get to know Dr. Flavia Pichiorri, Ph.D., M.S.
Dr. Pichiorri's work may be said to have begun when she worked in the Hematology Division at the Medicine College at Ohio State. She graduated gaining an Master of Science in development biology and molecular cell from Rome University, cum laude.
Added to these achievements was her success of a doctorate from the same University of Rome in experimental medicine, which paved the way for her work in studying small RNA (microRNAs) and epigenetic modifications in cancer cells, as a post-doctoral researcher. In this role, Flavia Pichiorri successfully demonstrated that epigenetic changes and microRNA deregulation had a hand in the life-threatening change of plasma cells. She also proved these changes are causing the deregulation of many important genes that are contributing to the pathogenesis of multiple myeloma.
From this milestone of research Flavia Pichiorri was able to show that few of these molecular aberrations that recurred, can be therapeutically targeted using small molecular inhibitor of p53 and epigenetic modifiers like histone deacetylase inhibitors. Her team was one of the first to show circulating miRNAs were able to be considered as helpful noninvasive biomarkers for multiple myeloma patient stratification and outcomes.
Work With City of Hope
Flavia Pichiorri began working with City of Hope, a biomedical research center. This research and innovation institution provided the laboratory of Dr. Pichiorri with the resources necessary to continue her research in the subject of multiple myeloma.
Both myeloma and multiple myeloma are uncommon cancers, and City of Hope has labs like Dr. Pichiorri's which are focusing on developing new treatments for the disease.
Two Clinical Trials and Publications Produced From Flavia Pichiorri's Laboratory
Now that we've established who Flavia Pichiorri is and what her laboratory's work focuses on, let's take a look at the two clinical trials recently published to get a more detailed understanding of her work alongside City of Hope.
1. CD38 Comparison Study
The first clinical trial with results published is the study of how an anti-CD38 antibody conjugated with an imaging agent can target myeloma cell dissemination in vivo and into the clinic. Identifying CD38+ cells in patients with multiple myeloma: first-in-human imaging using copper-64–labeled daratumumab.
Recently Dr. Pichiorri published a second study that we'll discuss is the "Comparison of CD38-Targeted α- Versus β-Radionuclide Therapy of Disseminated Multiple Myeloma in an Animal Model."
In this study, Flavia Pichiorri's lab worked by comparing the effectiveness of a β-emitter versus an α-emitter radioimmunotherapy. To do this, the lab used radio-labeled DOTA-daratumumab, which is an anti-cancer medication making use of monoclonal antibodies, binding to CD38 that is naturally overexpressed in cells of multiple myeloma.
They experimented with multiple dose levels so that the dose that had the highest efficacy with the least amount of toxicity could be determined.
It was discovered that the β-emitter Lu-DOTA-daratumumab was inferior to the α-emitter Ac-DOTA-daratumumab in therapeutic treatment because the α-emitter delayed the growth of tumors without contributing as much to overall toxicity in the body. With the clinical team at City of Hope she has now translated α-emitter Ac-DOTA-daratumumab into the clinic and they are currently running a phase 1 dose escalation study in multi relapsing myeloma patients (ClinicalTrials.gov Identifier: NCT05363111). This phase I trial tests the safety, side effects, and best dose of actinium Ac 225-DOTA-daratumumab (225Ac-DOTA-daratumumab) in combination with daratumumab and indium In 111-DOTA-daratumumab (111In-DOTA-daratumumab) in treating patients with multiple myeloma that does not respond to treatment (refractory) or that has come back (recurrent).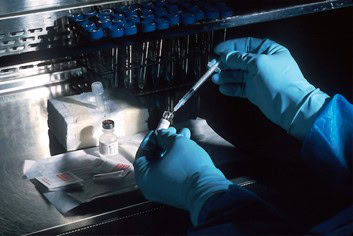 2. Daratumumab's Effects on CD38 and Myeloma Cell Adhesion
The second publication from Flavia Pichiorri's lab we'll discuss is the "Daratumumab Induces CD38 Internalization and Impairs Myeloma Cell Adhesion."
In this study, the monoclonal anti-CD38 antibody known as Daratumumab's combination with ImiDS and proteasome inhibitors to treat relapsed multiple myeloma was explored.
Dr. Pichiorri's lab concluded that there are negative effects to this decision made by the United States Food and Drug Administration to approve it's use in treatment. For example, CD38 was proven to become internalized after Daratumumab was applied.
By the conclusion of the study, it was clear that the use of Dara on multiple myeloma relapses actually increased the cell's sensitivity to proteasome inhibition.
In Conclusion
Dr. Flavia Pichiorri's laboratory has made great strides in therapeutic treatment of multiple myeloma relapses.
These strides have been accomplished through more than one clinical trial study demonstrating the effects of certain drugs on the production of CD38, which is overproduced in multiple myeloma cells. In cooperation with City of Hope, Dr. Pichiorri's laboratory and research work is shining a ray of hope on effective treatment futures for multiple myeloma.