By Carmen Greger
ERAS IS EPIC- WHICHEVER WAY WATCHED, SCREEN & STAGE ALIKE
Taylor Swift rocked the live tour all hands down, now two thumbs up with a Gold Star on the Silver Screen; It's time to roll out the 'Red' carpet for Tay-Tay, and I have my suspicions that this fierce, feisty and oh-so-friendly icon is just pulling out of the gate, and with even more power and grace than any 'White Horse'!
She's got it all, from daylight to 'Midnights', she's undoubtedly a wise old soul, even though she's 'feeling 22' (now 33).
Breathtaking, hard working, simply stunning Taylor has so many perfectly imperfect pieces to her puzzle properly in place. So, naturally, all across the globe, each and every one of us can easily find- and strongly identify with- at least one interlocking jigsaw nugget of ourselves within her repertoire of traits, talents and tales to tell.
This sweet and sexy vulnerable vixen with 'Beautiful Eyes' is a masterful mosaic of human nature, human potential and human rights.  A brilliant bombshell here to shed light on abilities and responsibilities, strengths and weaknesses within the beautiful, ever-evolving messy existence we call life.
Taylor spotlights the expression and connection, ins and outs and ups and downs of it all, as we go through this journey individually and collectively, in, through, and occasionally beyond, our human condition.
A masterful storyteller, Taylor takes her audience on a deeply moving journey through her 'Wildest Dreams", from heartbreak to ecstasy, and everything in between.
Poetic and potent, she invites us to hold her hand and experience the 'Snow on the Beach', see a birds eye view and feel the heartstrings tug of 'Lavender Haze', she extends her arms and beckons "Welcome to New York; It's Been Waiting For You" as if she is cheering us on to follow our passions, live our dreams, embrace and experience the adventure that so calls.
Each one of her songs is so uniquely transportive and 'Hits Different'.
From quirky and sophisticated to edgy and fearless, from sassy and seductive to 'ladylike' and empowered, it's not too difficult identifying with the icon. Fans seem to get her 'All Too Well' these days, and with songs like 'Anti-Hero', she's got a great 'Reputation' for wearing her heart on her sleeve expressing the truth of our individual and collective insecurities and potentialities.
Far from the monster on the hill, Taylor's made it pretty darn easy to be a Swifty.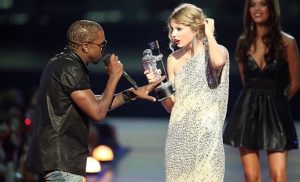 She's a class act; she has an innate etiquette about her- demonstrating manners and mannerisms that transcend anything anyone could have taught her externally; She's wise from experience and turns obstacles into opportunities. Beautifully demonstrated when she kept her cool as things got heated with an inappropriate, undeserved and shocking exchange at the 2009 MTV VMA's prompted by Kanye West. Taylor openly, practically and confidently admitted, despite the outlandish act, that she was in fact a KW music fan, "I mean, he's Kanye West". I wonder if in the moment, when she realized the unwelcome, unforeseen presence of 'Bad Blood' which line she pulled out of her mental tool box at the moment: "Shake it Off", "I'll Be the Actress Starring in your Bad Dreams", "There's no time for tears" or was that the instant she began to craft the lyrics "Today is never too late to be brand new"? …. likely all of the above.
This influential pop culture icon betrays her 'Bad Reputation' and treats all of us who sing along with her like every song she sings is 'Our Song", inviting us with open arms efficaciously and graciously into the empire of T where we all feel 'Safe and Sound' and a little bit 'Fearless'.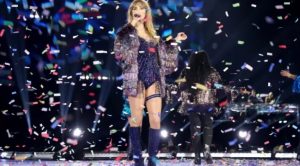 She puts us all in the front row seat, regardless of our pay scale and designated section in each and every one of her compelling concert tours… and now, in coming-to-a-theater-near-you "Style',  she has distributed an open and royal invitation to explore her vast collection of once-upon-a-time stories set to passionately, personally drawn, and carefully crafted tunes, all strategically matched and powerfully amplified with sexy, sophisticated and spectacular fashion galore.
She truly makes each of us feel like 'The Lucky One'. And so we come back for more. Again and again….. And again.
We sing her songs, we sport her merch, we download her albums, we pin her posters, see her shows, and mimic her style. We mirror her, as she is a reflection of the collective Us;
We see ourselves, endless possibility, dreams come true, in the being and becoming of Taylor.
She's a believer; she's an achiever; She fully actualizes her evolving potential even more than she- or anyone for that matter- thought possible, and without hesitation raises her own bar the moment before she sees it's time. And she does so with consciousness, good conscience, hard work, perseverance, patience, self-awareness, self-discipline, self-respect, power, purpose, courage, vulnerability, integrity and grace… and likely a lotta latte's.
She is a giver, not a taker, she is a mover and a shaker, she is a beyond-the-box believer and a rise-and-shine kind of operator, and she's no 'monster on the hill'; Notably so, especially given her 'status', she remains impressively, pleasantly 'abnormally normal', which may be her secret recipe for keeping herself 'Out of the Woods" and into the galaxy as the bright and shining star that she was born to be.
She is simply mad about her cats, Grey's Anatomy, and royalty fairness (I often respectfully refer to her the Royalty Queen), and she stands up to make a difference and be a voice for those voices that could use a cacophony of echoes, respect and applause.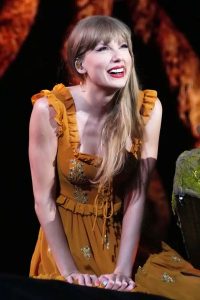 She wears her heart on her sleeve; While her concerts and box office events will always likely be a sell out, she never will be- she stands by and in her truth, she's real and she's raw, and seemingly determined by her authenticity and vulnerability and proud of it. In her own words " I don't want to keep secrets just to keep you".
She is a change-maker, and perhaps being Chief Kelce's hand-holder, will be his total game-changer; Taylor is undoubtedly beautiful, unique and impressive, inside and out.
It's no wonder her (multi-generational!) fan base is said to be infinite and growing (appx 180 million in the US alone), and her net worth is also equally infinite and growing (apps $740 million, according to Forbes, who also recognized her as one of the Top 10 highest earning entertainers- she was the only female listed in that top ten, which has been "A long-time coming").
And, her favorite number is 13. Mine too. Go figure. (It's deep, roots way deeper than Taylor's Birthday).
(More in our upcoming article "13: What's in a number?")
And although she has made her home(s) in Tribeca, Beverly Hills and Rhode Island, all of which, with Olivia and Meredith in tow, she can quickly CATapult to in her 40 million dollar private jet in just short of a moment's time, her largest and most cherished residence to date is the one she has built in the heart of her audience.
What's next for Taylor? The best is yet to come for this diamond studded super star who may "Like Shiny Things" but equally appreciates "Paper Rings", and could easily fit in and feel just as comfortable behind the wheel of a 'Stupid old Pick-up Truck' or a 458 V8 562 Horsepower Ferrari.
She's a positive force whose been dishing out a lot of good- raw talent, stellar performances, and outreach efforts alike- and with a heart bigger than her bank account and no lack at all in sight; She's surely investing in 'crystal skies' and the deep knowing that what goes around comes around.
She "and Karma vibe like that".
With a box office Eras-concert-tour-hit netting $37.5 million on its opening day, obviously, she doesn't need to 'be the man to be the man'. Box checked.
Stay tuned for much more T to come…. Are you 'ready for it'?!?!
She's a born "all for one & one for all" player and winner, and she's just getting started at the tender age of 33.
"Baby let the games begin-let the games begin…."