Reed Pirain is a Partner with Pittsburgh brokerage NextHome PPM Realty. In the following article, Mr. Pirain discusses popular accounting software utilized by agents and brokers and explains some of the considerations that real estate businesses need to review in choosing a platform that caters to the specific needs of this industry.
With the power of real estate accounting software, businesses both large and small can better manage their finances, including property and rental income, expenses, and tax records. However, to get the most from this software, real estate and brokerage firms must look for solutions that offer features tailored to their needs. These could include expense tracking software, analytics tools to identify market trends, and integrations for accounting and tax purposes.
Reed Pirain reports that there are currently a handful of top options on the market offering comprehensive support for real estate businesses of all sizes. Below are a few of the best platforms and what makes them effective for real estate accounting.
QuickBooks by Intuit
Reed Pirain says that QuickBooks is one of the most popular accounting software platforms on the market, and for good reason. The software is designed to be user-friendly and offers a variety of features that are helpful for real estate businesses, such as the ability to track and manage property income and expenses, generate reports, and more.
In addition, QuickBooks integrates with a number of third-party applications and services, making it easier to connect accounting with other software programs used throughout the business. QuickBooks is particularly designed to help businesses grow and it readily scales with businesses as they add new properties to their portfolio.
Once subscribed to the platform, Reed Pirain says that users can apply QuickBooks to identify common accounting issues, as well as how to compare their business to larger competitors. The only downside to the platform is that it's priced according to the business and QuickBooks does not offer a limited free trial.
Xero
Unlike QuickBooks, Xero is designed to help individual real estate agents file invoices and quotes, prepare their accounts, and track expenses for annual or quarterly tax purposes. Reed Pirain reports that the software includes an agent dashboard that provides an overview of their finances and performance and, from there, agents can see what they've earned and spent, as well as any upcoming or overdue invoices.
Xero also offers a mobile app, allowing agents to stay on top of their finances while on the go. While Xero doesn't offer as many features as QuickBooks, it is a more affordable option for small businesses and individual real estate agents. Xero also offers a free trial, so businesses can test out the platform before committing to a subscription says Reed Pirain.
The only downside to Xero is that it charges businesses an extra $40 a month, plus an additional $6 per employee if the business chooses to use the software for payroll purposes.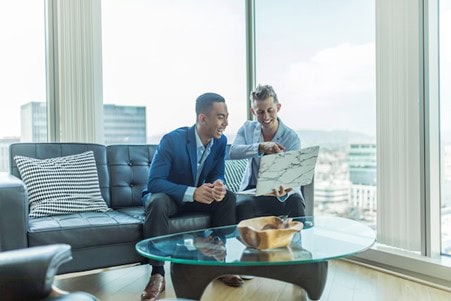 Buildium
Whereas real estate agents need an accounting software that tracks their invoices and accounts due, building managers and management companies require something a little more comprehensive. This is where Buildium comes in. Buildium is an end-to-end property management software that helps businesses keep track of rent, expenses, and maintenance requests.
Reed Pirain explains that the software includes a number of features specifically designed for the real estate industry, such as the ability to post rental listings, screen applicants, and collect rent payments online. Buildium also offers a mobile app, so landlords and property managers can stay on top of their business while on the go. From the app, they can communicate with tenants, receive payments, and even track maintenance requests.
Best of all, Buildium is fairly affordable at just $50 a month, and it comes with a 14-day free trial. Reed Pirain says that the most commonly reported complaint is that the membership is built on a tiered status system and some of the premium features are only available at an added cost.
NetSuite
Last but not least, NetSuite is designed with large-scale operations in mind and offers a comprehensive solution for businesses managing multiple properties. Some of its most impressive features include automation tools for detecting financial irregularities, analytic metrics for tracking profitability and cash positions, and payrolling tools for weekly and monthly operations.
NetSuite is not a platform for beginners, though, as it is criticized as a challenging platform to learn reports Reed Pirain. However, with its many features and processing power, it's arguably the best accounting software for a major real estate business. Unfortunately, though, NetSuite does not publish information about pricing, so it's safe to say that it varies by business.
Final Thoughts
Real estate accounting software is designed to help smooth operations and keep track of finances for businesses in the industry. To get the most from the software, businesses should look for a platform that offers features specifically tailored to their needs. The four platforms highlighted above are some of the best in the industry and each offers unique features and capabilities.