Gaining New Zealand citizenship by naturalization, Dr. Matthew Aladesaye holds a Ph.D. and is a qualified mechanical engineer from Massey University. In the following article, Matthew Aladesaye discusses the engineering marvels found down under.
In just 100 years, Australians and New Zealanders would never have believed the engineering marvels that now adorn their countries. Engineering in New Zealand in the 1800s — rail lines, bridges, roads, dams — was mostly the work of untrained locals. Even after engineering schools were formed in the country, many learned the craft from apprenticeships explains Matthew Aladesaye.
And in Australia, the discovery of gold in the first part of the 1800s forced the country to grow up fast. Engineers managed gold mines and then moved on to transportation efforts.
When one was called a civil engineer, it was often because they took a handful of classes.
While both countries had inauspicious engineering beginnings, Matthew Aladesaye says that some of the greatest marvels can now be found within their borders. Some of the world's top universities for engineering are found in Australia, such as the University of New South Wales Sydney.
And the streets of New Zealand are home to some of the most gorgeous — and purposeful — buildings that challenge the notion of what modern engineering can accomplish.
Engineering Glory
Matthew Aladesaye reports that these striking and innovative engineering achievements are as impressive today as when they were first built.
Manapōuri Power Station, Fiordland, New Zealand
It's something of a miracle that it took just eight years and 1,800 workers to construct the Manapōuri hydro station, which involved building the actual power station in an underground cave that happens to be below a 650-foot granite mountain.
Part of New Zealand's longstanding focus on hydroelectric power, Manapōuri remains the country's largest hydroelectric power station.
Snowy Mountains hydro scheme, New South Wales, Australia
Dr. Matthew Aladesaye says that Australia's biggest engineering project was also its first major hydro plant.
The Snowy Mountains scheme includes nine power stations with two underground powered by 33 turbines and capable of generating 4,100 megawatts and producing 4,500 hours of annual renewable energy.
The site also includes 16 large dams and over 90 miles of tunnels and is fueled by stored water from New South Wales rain and melting snow. In 1967, Matthew Aladesaye says that the American Society of Civil Engineers named Snowy one of the modern world's civil engineering wonders.
The Majestic Center, Wellington, New Zealand
New Zealand, which sits within the "ring of fire" of the Pacific Ocean is a world leader in engineering techniques designed to resist earthquakes and other seismic activity.
The Majestic Centre, a 30-story office tower is a seismic strengthening masterpiece, which now sports retrofitted upgrades to increase beam strength and reinforce columns more than 30 years after it was first built.
Grafton Bridge, Auckland, New Zealand
Mr. Aladesaye reports that New Zealand residents hold a collective national pride in 1910's Grafton Bridge, the first span built with reinforced concrete arches and the largest structure of its kind in the world at the time.
It was an early showcase of reinforced concrete as an engineering groundbreaker and is still essential for vehicular and pedestrian traffic in New Zealand's most populous city.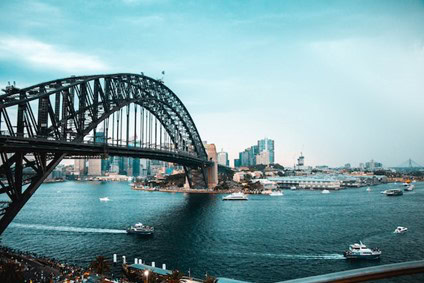 Sydney Opera House, Sydney, Australia
The world-famous Sydney Opera House isn't just beautiful to look at. Its iconic "sails" design showcases a particularly ingenious engineering feat.
To construct the top portion of the building, Matthew Aladesaye explains that the design team settled on concrete ribs to form arches, working with them as though they were all part of one sphere.
In the end, 2,400 pre-cast concrete ribs were used for the building, a UNESCO world heritage site.
Sydney Harbor Bridge, Sydney, Australia
The harbor's other engineering marvel took nine years, 53,000 tons of steel, 6 million rivets, and 45,000 tons of concrete to complete in 1932.
At 440 feet, it's still the world's tallest steel arch bridge and the second-widest long-span bridge, nicknamed "the Coat Hanger" because of its one-arch design, the arch is made from a pair of 28-panel arch trusses.
Black Magic NZL 32, New Zealand
Feats of engineering aren't just found in buildings. A yacht, used by Team New Zealand to win the 1995 America's Cup, changed the yacht racing game with innovative design techniques such as a narrow hill, a deep keel sporting revolutionary wing attachment, and a fully aerodynamic rig.
It's not surprising that several members of the sailing team had civil engineering backgrounds. In addition, yacht designer Doug Peterson's father was an aerospace engineer.