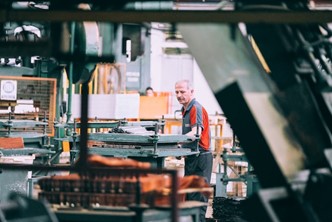 Joseph Hinkle of Michigan is an industry expert with extensive experience in manufacturing and a deep understanding of the workforce challenges and training needs in the field. With over three decades of hands-on experience in various sectors, Joe has witnessed firsthand the evolving landscape of the industry and the critical importance of addressing workforce challenges head-on. In the following article, Joseph Hinkle dives into the pressing issues faced by manufacturers today and offers valuable insights on how to tackle training needs to build a skilled and adaptable workforce.
There is no denying that there is a gap between the need for workers in the manufacturing industry and the skill set of those workers who are up-and-coming, and available. In order to fix the issue, Joe Hinkle takes a look at addressing workforce challenges and training needs within the industry.
According to industry surveys, manufacturing is suffering from a lack of interest within the field by the next generation of workers. This leads to a lack of efficiency in training and an overall unavailability of employees that are actively learning the skills needed to close the gap.
In this article, Joseph Hinkle of Michigan addresses some of the workforce challenges contributing to this, as well as outlining possible solutions in the form of delivering training needs. By the conclusion, the route to closing the skills gap should be not only visible, but easy to walk along.
Joseph Hinkle Reviews the Challenges
There are literally more than 2 million positions in the manufacturing industry that are likely to go unfilled between the years 2023 and 2024. That being said, these positions simply cannot be filled by any person. The workers who apply must, in this particular industry more than most, be skilled enough to handle the position efficiently.
This leads to the simple question: why is there such a skills gap in manufacturing? After all, if the jobs are available, shouldn't workers go through the training necessary to fulfill those jobs? Unfortunately, with manufacturing, this is not the case. Due to many misconceptions, new workers often do not go through the training needed to close the gap.
Joe Hinkle of Michigan examines the top 3 workforce challenges that can be accurately blamed for causing the skills gap in manufacturing.
Training is Behind the Times
Lack of Career-Path Incentive
No Pipeline For Skilled Workers
In taking a detailed approach into these reasons, with perseverance and understanding, manufacturers will be able to narrow that unfortunate skills gap as time goes on.
Training is Behind the Times
Joe Hinkle of Michigan says that it is never a good sign when the pace of innovation and technology is moving more quickly than the adoption of skills to operate that technology in the workforce. What this usually means is that an industry is behind the times.
Workers who are already dedicated and may even have had training in their skills for years, suddenly find themselves unable to do their jobs well or with the same efficiency that they've been accustomed to.
Not only does lead to poorly developed skills, but it can also lead to a mass exodus of previously satisfied employees from the business!
In order to avoid this problem, higher level management should put in place plans for re-training loyal workers so that they are equipped to handle new processes and day-to-day technological assets.
Lack of Career-Path Incentive
Nowadays, even workers who have been happily employed for the industry can decide that they would rather move on to something else if they cannot grow in the career they've chosen. This is even more important to workers who are newly entering this field, explains Joe Hinkle of Michigan.
Therefore, it is recommended that manufacturers allow blue-collar employees the opportunity to not only work as assemblers, but as mechanics, for instance. Create opportunities that not only excite workers but equip them for the next level of their work.
No Pipeline for Skilled Workers
There is often no consistent pipeline to produce manufacturing workers of a consistent skill set. For those that create apprenticeships and learning opportunities, collaborating with educators as early as in high schools can get a head-start on creating the next generation of skilled workers for themselves, reports Joe Hinkle of Michigan.
In Conclusion
The skills gap in manufacturing is definitely present. The reasons behind it are not limited to a lack of understanding of the industry's great opportunities for workers. Instead, we saw that often, there is little incentive for growing in a career path for new workers.
Joe Hinkle of Michigan says that not only is this incentive not present, but often, even workers who are already in the industry have not been trained in a way that is equipping them with skills currently needed in their technologically advancing field.
Finally, skilled, up-to-date manufacturing workers are not being developed in a consistent pipeline of education. To resolve these problems, it is recommended investing in re-evaluated, frequent re-training efforts. Additionally, lead manufacturers should offer incentive for continued career paths and plan for apprenticeships for workers that are learning.
With these solutions to dedicate themselves to, those in the manufacturing industry can certainly hope to close the skills gap in their business sector!