Jay Roberts is the CEO and founder of Prosper Group, a Tampa, Florida-based real estate developer and investor of multi-family, residential, land, and hospitality assets. In the following article, Jay Roberts discusses the new Tampa developments being constructed this year, and what each project will bring to the area. Jay has said since 2021 that Tampa is set to become the next Austin, Texas in terms of massive growth.
Tampa has been in the middle of a real estate boom for the past few years and there are no signs of it slowing down. Thanks to its flourishing job market, diverse neighborhoods, and wide selection of outdoor activities, Tampa is becoming an increasingly popular spot for young professionals and families.
Below, an overview of the top 10 most popular developments and amenities these real estate ventures will provide are discussed.
Water Street Phases 2 & 3
Jay Roberts notes these next two phases will combine with the first for a total of $3.5 billion of new real estate, which includes nine million square feet of residential, office, retail, educational, hospitality, and cultural space. Jeff Vinik, owner of the Tampa Bay Lightning hockey team, and Bill Gates, the retired founder of Microsoft, are behind the master-planned mega project transforming downtown Tampa into a live, work, and play mecca. Recently, Phase 1 opened which includes a five-star EDITION hotel, Class A office, and three luxury multifamily buildings with restaurants and shops on the ground floor.
Gasworx
The Darryl Shaw-backed Gas Worx has commenced construction. Kettler, the Virginia-based developer has started work on the first multifamily building that will deliver 315 units to the new Ybor neighborhood. The total development consists of over 40 acres (and growing) and will include thousands of new residences, 500,000 square feet of office and more than 140,000 square feet of retail and restaurants.
Related Riverwalk
Jay Roberts of Prosper Group reports that the Related Group purchased six acres on the Hillsborough River for $55.5 million to build an upscale mixed-use development comprising 1,079 residential units, over 32,000 square feet of retail space, and 10 boat slips. Related Group's leadership has stated Tampa is a priority market for the Miami-based developer.
Located along the Hillsborough River, this project is enhancing downtown Tampa and attracting a variety of new businesses. Floridians will be able to take advantage of the many outdoor activities the Riverwalk provides, including kayaking, fishing, and biking.

Pendry Hotel
Pendry, originally a California-based chain of hotels, has long planned to expand into the Florida market and has now set its eyes on the sunny southern shores of Florida. While it may seem as if Tampa already has an abundance of hotels, the new Pendry Hotel is sure to be a highlight of the city. Pairing Californian design with Florida's easy access to tropical and Gulf cuisine, few competitors will compare.
With its prime location, nestled on the waterfront of downtown Tampa, this high-end resort will house 220 individual hotel rooms and an additional 207 private residences. It will also play host to three signature venues offering food and beverages, 11,000 square feet of open event space, a rooftop pool where guests can lounge, a top-notch gym, and a day spa for anyone to soak their stresses away.
According to Jay Roberts and Prosper Group, Two Roads—the developer behind the project—aims to wrap up construction sometime in 2026. Long-term residents will then be able to move in and make the most of the world-class amenities.
Ritz Carlton Bayshore
Few hospitality brands have managed to distill sophistication and luxury into a science quite like the Ritz Carlton has. And now, Jay Roberts and Prosper Group say that with the grand opening of the twin Bayshore Towers, Tampa residents can bask in the elegance of high-class living while overlooking the iconic Bayshore Boulevard. Since it was announced, this has become one of the most talked about construction projects in the area.
Spread across two buildings, the Bayshore Residences will offer the pinnacle of service for guests as they look out across views of the city skyline, enjoy swanky lounges, relax in separate men's and women's spas, and stay in shape in a start-of-the-art fitness center. The project is slated to be complete by November 2023 and the first tower has already sold out.
ONE Tampa – Built by Kolter
Kolter Urban, the same visionary design team behind the Ritz-Carlton Residences, Sarasota, has been hard at work to transform Florida into a luxury destination. Their latest condo project—ONE Tampa—will bring together a balance of retail space, residential units, and offices within the heart of downtown Tampa.
This means that ONE has the potential to attract more visitors along its shores, helping to sustain retail businesses that set up shop under the umbrella of the opulent development. In terms of design, the structure will soar 42 floors above the Tampa skyline, with a rooftop pool, 3D billboard, and a partial Italianate brownstone façade, striking a contrast between modern and traditional stylings.
Kolter Urban has commenced demolition on the site and launched pre-sales.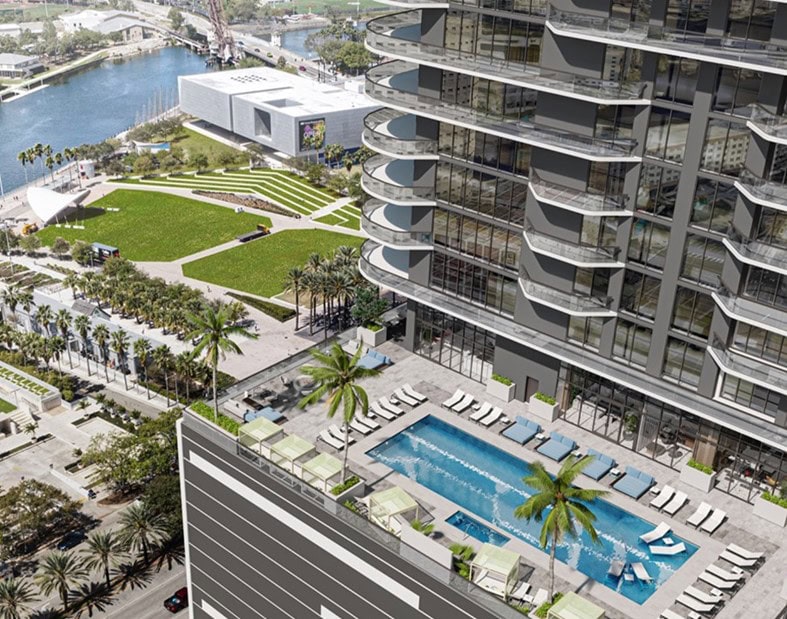 Silverstein Tampa Development
As one the biggest residential developments, the new Silverstein downtown development is in the process of being transformed into a 770,000-square-foot residential apartment building with a parking garage capable of housing 600 vehicles. This mammoth development will offer 440 residential units right at the heart of North Downtown (NoDo) Tampa.
Although it remains unclear what amenities the Silverstein project will house, its location puts it in contact with more than 3,000 local businesses and restaurants, sports venues, the Riverwalk, and more. This isn't to say that Silverstein Development will skimp on its facilities, though. The global developer is renowned for creating some of the most upscale properties around the world.
Of course, this project will surely take time, considering its size, but once complete, could be a real game changer for the local real estate market. Silverstein Development has been vocal about its wish to transform the NoDo neighborhood into something memorable and, with a major new residential development at the heart of the district, it's sure to boost an already accelerated development.
Brightline Extension to Tampa
For years, the United States passenger rail infrastructure has lagged behind Europe and East Asia, with most Americans opting to drive rather than take cross-country trains. This is set to change, though, as more regional rail companies are working to build the infrastructure needed to carry people in and around urban centers.
Brightline, one such high-speed rail line, is expected to arrive in Tampa in the coming years. This extension will reduce the time it takes to travel between Miami and Tampa, making it more convenient for people visiting both cities for work and play. Passengers will have full access to Orlando, West Palm Beach, Fort Lauderdale, and Miami, linking much of the state's population.
It's projected to include new buildings alongside the rail tracks, which could potentially attract more businesses and residents to the area. To date, more than 3 million people have used the existing sections of the track, so it's undoubtedly bound to attract more business.
Encore – LD&D New Development
Encore—LD&D's latest development project—is more than meets the eye. At first glance, you'd be forgiven for thinking that it's a standard luxury residence. Yet, Encore has marketed itself as an entire redevelopment district. This $200 million venture will add a full hotel with 178 rooms, office spaces, outlets for retailers, and an additional residence to house another 365 units to the downtown Tampa landscape.
It's sure to be an impressive development once completed.
Motor Enclave
Rounding out the top 10, Jay Roberts of Prosper Group couldn't forget to mention Motor Enclave—an upcoming racetrack project designed to be used for car shows, driving schools, and other public events. This is sure to attract high-roller customers hoping to expand their collections of fine motor vehicles. Plus, with private garages and performance tracks, collectors can finally enjoy the full power of their sportscars at a venue designed for speed.
This project should bring even more attention to Tampa's already booming market, while adding a unique flair to an otherwise retail-centric landscape. According to the latest reports, construction is nearing completion, and the center's management has announced that the events center is slated to open in June 2023.
Why Tampa is a Boom Town for Development
Tampa's real estate market has been on the rise for some time now and, with a mix of new businesses and opportunities in the area, the city has certainly seen an influx of recent residents. Compared to other metropolises in the Southeast, Tampa is known for having a more affordable cost of living, without sacrificing the beauty of the Gulf Coast.
This has made Tampa a diamond in the rough compared to nearby Miami, which has progressively become an overpriced and competitive market. Investors are now turning their sites to Florida's west coast and, if the sudden surge of luxury developments is any sign of what's to come, Tampa could soon rival the nation's most opulent tourist destinations.
Final Thoughts
With all of these factors combined, Tampa is in the process of becoming a major real estate market – and the top 10 developments above are just the tip of the iceberg says Jay Roberts of Prosper Group. While it's still early days, the fact that some of the most prestigious names in luxury development have set their eyes on sleepy Tampa signals that this once-quiet town will soon become the next big thing in American development.