Privacy Concerns Spark Consideration of a Congressional Ban 
TikTok has become one of the most popular social media platforms in recent years. Due to privacy concerns, the Chinese-owned company is currently facing congressional efforts to shut down its operation.
TikTok and Congress: What You Need to Know  
TikTok, a subsidiary of Chinese firm ByteDance, has recently come under intense examination following allegations of security lapses. The situation escalated when President Joe Biden signed a bill prohibiting the usage of TikTok on government-owned devices. The development has fueled further support for legislation aimed at completely banning the app from the United States. 
Privacy Concerns  
Calls for a ban continue to grow due to increasing concerns over privacy. TikTok collects and monitors its users' preferences, personal information, and usage details, including email addresses, phone numbers, and WiFi network connections. Although other apps also gather similar information, TikTok's parent company is a Chinese entity. This has raised concerns among U.S. officials who have repeatedly warned that the Chinese government could demand access to the data collected by TikTok on its users. 
The CEO of TikTok, Shou Zi Chew, has been invited to appear before Congress in March to provide insights on the security protocols of the popular video app. The appearance will provide a platform for the CEO to address these concerns and provide transparency on the measures taken to ensure the safety of user data, according to NBC News.  
Many Push for the Ban 
Senator Josh Hawley of Missouri, a Republican, recently revealed his plan to propose a new bill to restrict TikTok's presence in the United States. This comes after the success of the senator's previous legislation, the No TikTok on Government Devices Act, which was enacted into law last year. 
Senator Hawley said in a tweet: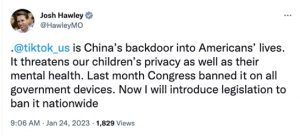 This push from Hawley is just the most recent of efforts to ban the social media platform. After TikTok's controversial launch of its retail sales feature in November of 2022, Senator Marco Rubio, R-Fla. called on President Biden to take a firm stance against TikTok Shop's presence in the United States. The move was an attempt to put pressure on ByteDance, TikTok's parent company, amid fears that the app could be used for espionage and censorship. Rubio proposed a bill named "Averting the National Threat of Internet Surveillance, Oppressive Censorship and Influence, and Algorithmic Learning by the Chinese Communist Party Act (ANTI-SOCIAL CCP Act)," that would protect Americans by blocking and prohibiting all transactions from any social media company in, or under the influence of, China, Russia, and several other foreign countries of concern.  
Only Time Will Tell 
Despite its immense popularity, TikTok's privacy concerns continue, leading to congressional efforts to potentially shut down its operations in the United States. As one of the most widely used social media platforms, the outcome of these efforts remains to be seen.