Brooke Beyma is currently studying to become a school psychologist. In the following article, she explains the importance of coordinating with educational team members to assist students in need.
Like the majority of American schools, Pine Grove Area High School in Pennsylvania closed as the COVID pandemic began in March 2020.
When in-person instruction returned two years later, it proved to be tougher than expected. Students who had been socially isolated for so long told their teachers and parents that they were having trouble adjusting.
In the fall, two of this district's students committed suicide. It was a devastating event that shed light on the vast importance of addressing the mental health of all students — and a clear motivator to focus on bringing in not just more school psychologists, but exceptional school psychologists with extensive training and passion for their work.
Having a school psychologist on hand is no longer seen as just a benefit, but as a necessity.
Brooke Beyma Discusses the Role of the School Psychologist
School psychologists work with children and young adults to help them thrive socially, emotionally, and academically.
They tend to be highly trained in education but also psychology, according to the National Association of School Psychologists, and they provide a remarkably wide range of services.
Brooke Beyma also notes that they typically must complete a post-master's degree program that covers child development, mental health, effective teaching, student learning styles, and the essentials of student motivation and behavior.
To work in a particular state, a school psychologist must be licensed or certified by that state. Many also receive a certification from the National School of Psychology Certification Board.
Brooke Beyma says that the work of school psychologists is highly collaborative; they never work alone. The large majority are found in public schools for children from kindergarten to 12th grade, though they also work in preschools, private schools, universities, and administration offices.

What School Psychologists Do for Students
All school psychologists share an important duty: addressing the needs of students and improving the schools where they work.
Brooke Beyma says that along with school-based social workers, mental health professionals, and counselors, school psychologists provide students with direct interventions and support depending on their unique or individual circumstances. Commonly, they help students become more engaged in class and motivated about their present and future academic performance.
Struggling students may be referred to a school psychologist for academic and mental health assessments. School psychologists commonly intervene when there are concerns about a student's behavior in class, working closely with them throughout their time in school to track their progress.
Brooke Beyma also notes that addressing mental health concerns is an important part of a school psychologist's work. In addition to working with students on their behavioral and emotional needs, they also work to improve essential social and communication skills, offer private or group counseling sessions, and work on various treatment approaches such as managing anger and positive conflict resolution.
They Also Work Closely with Parents and Administrators
A school psychologist's work is never completely centered on a student in need.
Brooke Beyma explains that a comprehensive approach to a student's academic and mental well-being requires the school psychologist to work directly with parents to learn more about their history of potential social, behavioral, and learning challenges.
Sometimes, a psychologist may talk regularly with parents about how to help their children both in and out of the classroom. They offer everything from education on drug and alcohol use and positive problem-solving approaches to basic reviews of parenting skills.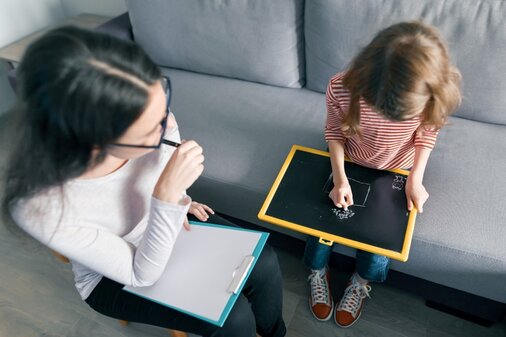 For students who are particularly at risk, psychologists are called in as part of a team to effectively address student needs and determine the best courses of action.
Brooke Beyma explains that school administrators rely on psychologists for insights into overall student and school needs. School psychologists are frequently asked to conduct research of student health and its relation to academic atmospheres.
Administrators, including principals and school district leaders, look toward such reports and information to make district-wide decisions and hold individual schools accountable.
School psychologists must work well with school leaders to create a positive environment for students. They often collaborate on crafting the most effective approaches to psychological services and developing timely intervention or prevention approaches based on local and national data.
Brooke Beyma says that such administrative teams must also work closely on developing school improvement plans to foster more effective student learning environments that are unquestionably supportive.
Above all, school psychologists work together with parents, students, and administrators to become the best advocate they can for their schools and every individual that makes up a school's community.