DAY BY DAY
By Carmen Greger
As the amber hues of November unfold, it's a special invitation to embrace gratitude as our compass. This month, let's intentionally entwine thankfulness into the potpourri of our daily lives, transforming routine into reflection and appreciation.
1. Begin your month with a gratitude meditation. Sit quietly with your eyes closed, breathe deeply, and think of three things you're thankful for. 
"Gratitude turns what we have into enough, and more." – Melody Beattie
2. Write down a positive experience from the past day and savor it.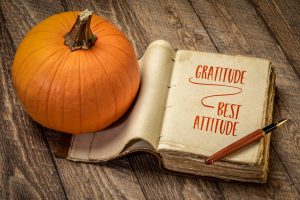 "Reflect upon your present blessings, of which every man has plenty; not on your past misfortunes, of which all men have some." – Charles Dickens
3. Take a moment to be fully centered and present in the moment; observe the beauty of November's transition.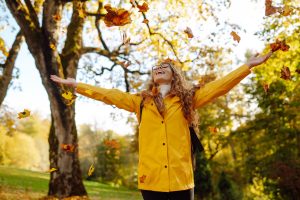 "Inhale and hold the evening in your lungs." – Sebastian Faulks
4. Go for a mindful walk, tuning into the crunch of leaves underfoot. 
"Nature does not hurry, yet everything is accomplished." – Lao Tzu
5. Reach out to a friend or family member just to say hello and that you're thinking of and thankful for them.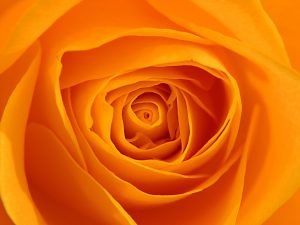 "A single rose can be my garden… a single friend, my world." – Leo Buscaglia
6. Donate to a food bank or volunteer your time to help those in need. Consider visiting an animal shelter to offer the little creatures some TLC; perhaps leave a charitable donation upon your departure.
"We only have what we give." – Isabel Allende
7. Host a coat drive or donate warm clothing to a shelter.
"Kindness is like snow – It beautifies everything it covers." – Kahlil Gibran
8. Cook a healthy meal and savor each bite, being thankful for nourishing foods. Make a savory seasonal soup or pumpkin bread, package it festively and bring some to a friend. Plan to host a cozy dinner at the end of the month and send out invitations to those in your life whose company you cherish. 
"To eat is a necessity, but to eat intelligently is an art." – La Rochefoucauld
9. Spend the afternoon or evening connecting with dear friends or loved ones, sharing stories and laughter. It's an especially wonderful time for college 'kids' to start and share an annual reunion with high school friends upon return for the holiday break; Reach out and organize a first-annual gathering.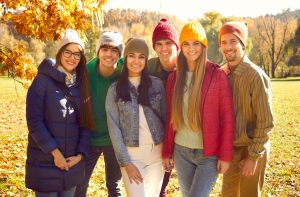 "Joy is the simplest form of gratitude." – Karl Barth
10. Write a heartfelt Thank You letter to someone who has made a difference in your life. Start to plan sending out holiday cards for the upcoming season via snail mail. Include those who you know will need a little pick me up during this time.
"Gratitude can transform common days into thanksgivings." – William Arthur Ward
11. Dedicate an hour to a hobby or activity you love, acknowledging your talents and interests. Perhaps draw or paint a picture, knit or macramé, make a vision board or a seasonal collage.
"Do more things that make you forget to check your phone." – Anonymous
12. Create a gratitude jar, adding notes of good things and thoughts as they happen throughout the month.  Continue this practice throughout the year.  When moved to do so, randomly select one from the jar and reflect.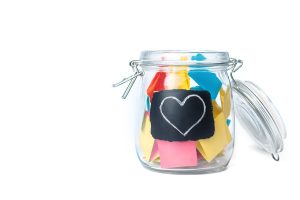 "What a wonderful life I've had! I only wish I'd realized it sooner." – Colette
13. Offer compliments freely today. Brighten someone's day with kind words; Words carry powerful energy.
"A compliment is something like a kiss through a veil." – Victor Hugo
14. Reflect on a challenge you've overcome and find the lesson within. Be grateful for the experience and for the wisdom gained; take a moment to honor both the event and yourself.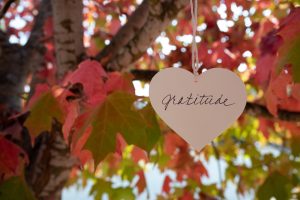 "The struggle ends when gratitude begins." – Neale Donald Walsch
15. Connect with nature; take care of a plant or start an indoor herb garden. 
"He who plants a tree plants a hope." – Lucy Larcom
16. Practice mindfulness during a routine task, bringing full attention and appreciation to the moment. 

"The present moment is filled with joy and happiness. If you are attentive, you will see it." – Thich Nhat Hanh
17. Recognize someone's effort at work or in your community with a note or a small token of appreciation. 
"Acknowledging the good that you already have in your life is the foundation for all abundance." – Eckhart Tolle
18. Choose to forgive someone, and feel the warmth of releasing past grievances.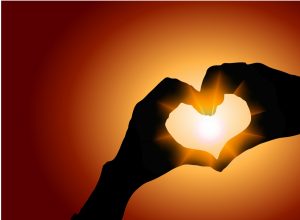 "Forgiveness is the fragrance that the violet sheds on the heel that has crushed it." – Mark Twain
19. Spend quality time with a family member, doing something they love. 
"Family is not an important thing, it's everything." – Michael J. Fox
20. Organize your living space; appreciate and care for your home environment.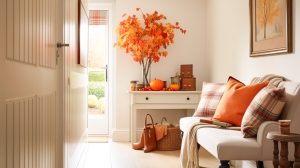 "Love begins by taking care of the closest ones – the ones at home." – Mother Teresa
21. Write three life experiences you're grateful for and three qualities you appreciate about yourself.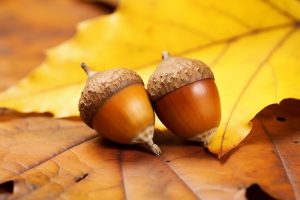 "Loving oneself is the foundation for love of others." – Dalai Lama
22. Introduce yourself to a neighbor or strengthen your bond with the community. Perhaps partake in some sort of community service. 
"The essence of community, its very heart and soul, is the non-monetary exchange of value; things we do and share because we care for others, and for the good of the place." – Dee Hock
23. Compose a list of dreams you're grateful for having the opportunity to pursue, and reflect on the journey towards them. 
"Gratitude makes sense of our past, brings peace for today, and creates a vision for tomorrow." – Melody Beattie
24. Spend a day without complaining and instead, replace any negative thoughts with positive ones.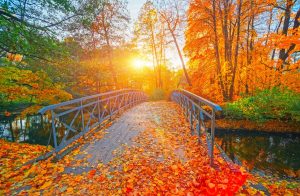 "A negative mind will never give you a positive life." – Ziad K. Abdelnour
25. Write a Thank You letter to yourself, acknowledging your growth and resilience and write a Thank You letter to another friend, simply thanking them for being who they are, highlighting some of their extra special qualities.
"Being thankful for each and every day, you are able to see the beauty in everything." – Anonymous
26. Turn off all of your devices for an hour and immerse yourself in the coziness of your home, maybe read or simply rest. 
"Sometimes the most productive thing you can do is relax." – Mark Black
27. Make a small, anonymous gift to someone without expecting anything in return.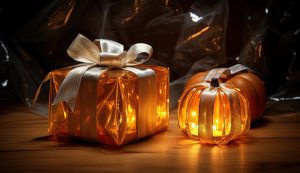 "Give without remembering and receive without forgetting." – Brian Tracy
28. Reflect on the past month and recognize the moments and people that brought you joy and comfort. 
"The roots of all goodness lie in the soil of appreciation for goodness." – Dalai Lama
29. Share your intentions for the coming month, focusing on how you can continue to cultivate gratitude. 
"Gratitude is not only the greatest of virtues but the parent of all others." – Marcus Tullius Cicero
30. Conclude the month by hosting a small gathering or meal to express your gratitude to those close to you. 
"As we express our gratitude, we must never forget that the highest appreciation is not to utter words but to live by them." – John F. Kennedy
November, with its crisp embrace, urges us to slow down and appreciate the warmth of gratitude that fuels our lives. Let's carry the ember of thankfulness beyond this month, letting it light our way through the seasons of our journey.