A Noteworthy Spotlight on Hill, Her Mountain of Talent & Her 25th Anniversary Concert Tour
PHILLY DATE CHANGE!
By Carmen Greger
In the world of music, there are icons, and then there are legends. But every so often, someone comes along who transcends even those lofty designations. Someone whose artistry not only moves the masses but redefines an era. Lauryn Hill is such an artist.
She may not be celebrating her 25th birthday – in reality, Ms. Hill is gracefully approaching her late 40s – but in terms of her impact and musical legacy, she's as stunning and vibrant as ever. She is, as many would agree, as timeless as her music; this 5'3″ artist is a giant in the industry.
From the very inception of her career, Lauryn Hill exhibited a unique blend of creativity, passion, skill, and soul that separated her from the crowd. She could rap with dexterity and intensity, sing with passion and precision, and write lyrics that resonate deep within the soul. Remember the days of "That thing, that thing, that thiiiiing"? In her song "Doo Wop (That Thing)," Lauryn tackled love, respect, and the complexities of relationships with a catchy tune and profound lyrics, a hallmark of her artistry.
As one of the leading members of The Fugees, Hill stood out not only for her vocal prowess but for her ability to blend seamlessly with Wyclef Jean and Pras Michel. The group's rendition of "Killing Me Softly" remains one of the most iconic covers in music history, largely due to Hill's soulful voice that made listeners feel every word.
But it wasn't just in The Fugees that she shined. Her solo work, particularly the groundbreaking "The Miseducation of Lauryn Hill," solidified her place in the annals of music history. "Everything is everything," she sang, and in her hands, it truly was. Hill's music spoke of life, love, and the pursuit of truth in a world riddled with challenges. Her tracks like "Ex-Factor" and "To Zion" are not just songs; they're anthems of the heart.
Some additional most celebrated songs of this multiple Grammy winner are "Turn Your Lights Down Low" with the masterful and amazing Bob Marley and "Could You Be Loved" performed with the Roots and "Doo Wop (That Thing). Embracing us with her voice, her smile, her spirit: she's vibrant, she's brilliant- she's simply beautiful "Loving you is like a song I play", she sings.
Lauryn Hill has shared the stage and studio with a plethora of artists. From her collaborations with Marley and with Carlos Santana in "Zion" to her harmonies with Mary J. Blige and D'Angelo, her versatility and talent are evident in every note she delivers.
Beyond her art, Lauryn's life is a testament to resilience and evolution. Born in South Orange/ Newark, New Jersey, Hill's rise to fame was meteoric but not without its challenges. Despite the struggles she faced in the unforgiving world of the music industry, she remained true to herself and her art, a beacon for others navigating the tricky waters of fame and personal authenticity.
And now, 25 years after gifting the world with her unparalleled musical talents, Lauryn Hill is on tour again. This 25th Anniversary Tour is not just a nod to her past achievements but a showcase of her enduring talent.
For those lucky enough to be in Philadelphia on Monday, October 23, 2023, you're in for a treat. The City of Brotherly Love will play host to this phenomenal artist, and word has it that tickets are still available! This is a golden opportunity to experience the magic of Lauryn Hill live – a performance that promises to be stellar, filled with the passion and soul that only she can bring.
For those who can't make it to the Philadelphia show, fear not! We will be doing a follow-up piece capturing the essence and highlights of the performance. But in the meantime, it would do everyone some good to dive back into her discography. After all, a little Lauryn on the daily truly goes a long way.
Above notes are italicized as it was the original content to be published just prior to Ms Hill having to reschedule her Philly show due to Doctor's orders to rest her voice. She assures the upcoming November 25th Philadelphia show will be one to remember. So, if you thought you missed her concert, now you have a second chance! See you there! Below is her letter to Philly: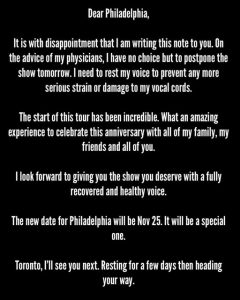 In a world of fleeting fame and transient tunes, Lauryn Hill stands as a testament to the enduring power of genuine talent. Her music isn't just about notes and beats; it's about life, love, purpose, pain, joy, and the myriad emotions that make us human. So as we celebrate her and look forward to her upcoming performances, let's remember to "Keep on, keeping on…" and let her soulful melodies guide our days.
Here's to Lauryn Hill – may we always find the "Sweetest thing" in her music and let it remind us of the beauty of pure passion and genuine artistry.